Unbounce is the most powerful landing page builder.
Optimize your campaign and conversion funnels without any technical knowledge.
Quickly & easily: Build, publish and A/B test landing pages for PPC, display advertising, email marketing or social media campaigns.
Delio is the right lead management tool for Unbounce users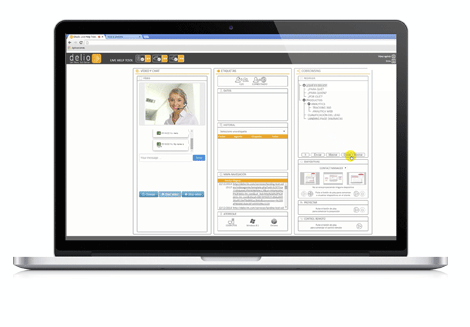 Handles capture, score  and contact of Internet  and phone leads.
Get in touch with each lead immediately.
Contact your leads  when the time is just right for them.
Easy to configure with visual Workflows.
Porwerful lead scoring System.
Real time Analytics from all your marketing channels.
Point-and-click to check real time performance in any workflow .
Easy to integrate with third party tools (i.e. CRMs)
…  and much more for your  Unbounce landing page leads.
How To Get Started
Login into your Delio account and:
Copy API Idtag from Contact Manager–Data Manager (API).
Create an URL Tracking in Site Manager and copy.
Create a Visit tag and a subtag and copy.
Create a conversion tag and copy.

Login into your Unbounce account and: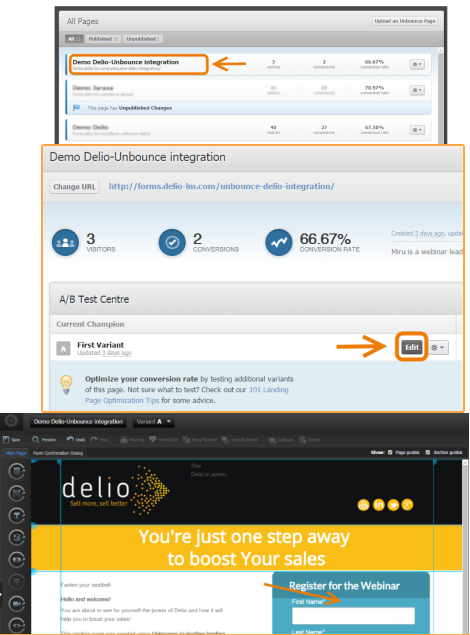 Choose the Landing Page you want to integrate.
Edit the Landing Page.
Double Click on the landing page Form.
Create a hidden field called "IdTag", and copy in that hidden field the idtag value  from Delio account.
Create a hidden field called "Idlead" with a  "none" value.
Click Done
Click on Javascript- Head
Disable Jquery checkbox and add the last version of JQuery (i.e. <script src="http://code.jquery.com/jquery-latest.min.js"></script>).
Paste  IdTag Script.
Go to Javascript area before </body> tag and paste the "Visit Tag".
Click Done
Go to Unbounce Landing Page form confirmation and add the redirect to a page with the conversion tag.
Save the Landing Page and republish it.
Go to WebHook and  put the following  Url for Post  http://ws.walmeric.com/provision/wsclient/sendLeadUnbounce.html.
Test it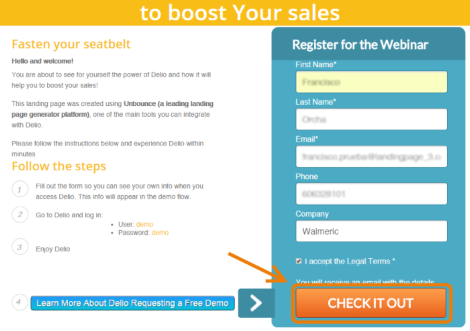 Go to Unbounce Landing Page url and fill the form.
Go to Unbounce to check the conversion.
Go to Delio Lead Management to check the conversion.
1. Delio Login.
2. Click on "C. Manager".
3. Click on "Leads Detail".
4. Go to the Last lead page.
5. Click on the lead that we want to check.
You already have a basic Delio integration for your Unbounce  Landing page. From this point you can associate each received  lead to  a personalized treatment depending on the Visual workflow you've created.
Add Delio to your Unbounce pages Now!
Do not hesitate, if you want to give a more personalized treatment to your potential customers, optimizing your sales resources, Delio Lead management is a flexible solution that integrates in one tool everything your company needs for efficient management of each lead.
Contact us and ask for a free trial         or          Download full tutorial
This post is also available in: ES
---